Sep
18
Sat
2021
Frogwarts School of Magic & Murder

@ Schmidt's Sausage Haus und Restaurant
Sep 18 @ 6:00 pm – 9:00 pm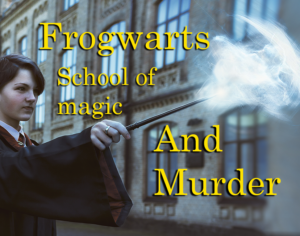 [lightframe shortname="lockdownmurdermysteryparties" fallback="simple" full_items="yes" flow="119228"]Book online now![/lightframe]
---
NOW ON SALE for $40 each
Sale valid on new purchases only.
Frogwarts School of Magic & Murder
Presented by A Murder Mystery Dinner.  The Frogwarts School of Magic is a historical place within the magical community where magical folk gather safely away from the Smaggles (i.e., non-magical part of society) to have a wonderful and relaxing time.  Magical beings anticipate the yearly Regional Witches & Wizards Ball held by the school, as the who's who of the magical world will certainly be in attendance.
This event will be the ultimate opportunity for magical beings to taste all of the latest flavors of witch's brew and catch up on juicy gossip.  The guests will arrive on the scene riding the most outlandish and expensive models of brooms.  Cameras will flash as Crystal Ball's Daily reporters capture the guests donning this season's most fashionable hats, robes, and wands.
Get ready for magical challenges, delectable dishes, and merriment with your magical friends!
---
Ticket Options
This event will be for up to 40 guests with up to 8 people per table.  Seating is first-come, first-serve unless VIP tickets are purchased.
General Admission – $60 / Person
VIP Admission – $100 / person.  Each person receives the following
Gold Identifying lanyards
First to be served dinner
$15 Escape Room Gift Card
$25 A Murder Mystery Dinner gift card for future use
A framed photo of your group
Reserved Seating
---
Event Menu
Buffet Dinner
Schmidt's own fresh Pork Bratwurst

Famous Smoked Bahama Mama

Baked Chicken

Vegetarian & gluten-free options available
Dessert
Drink options
Soda, 

Tea, 

Iced Tea,

Coffee

Cash Bar
---
A Murder Mystery Dinner Columbus, Ohio?
Welcome to the best mystery dinner event in Columbus, Ohio.  A Murder Mystery Dinner is like dinner theater meets escape room. We throw out the actors and in their place we put you. You are the game pieces in this real-life game of Clue.
---
What to expect?
Don't expect mystery dinner theater.  This is a social game where participants attending the mystery dinner will work together to solve a murder.  Along the way, you may also experience some hidden mystery games.  You will work as a team, collecting points by solving clues, bribing your way to success, and correctly solving all crimes and mysteries.  Bring your friends, your family, heck, bring your worst enemy, and become friends again by the end of the night.  We are sure you will have the most fun you have had in a while. We hope we will even become a traditional event for you to attend.
Check out our how the game works video HERE.
[lightframe shortname="lockdownmurdermysteryparties" fallback="simple" full_items="yes" flow="119228" view_item="310621" view_availability="666802513"]Book online now![/lightframe]