Murder & Cocktails – A Masquerade Murder Mystery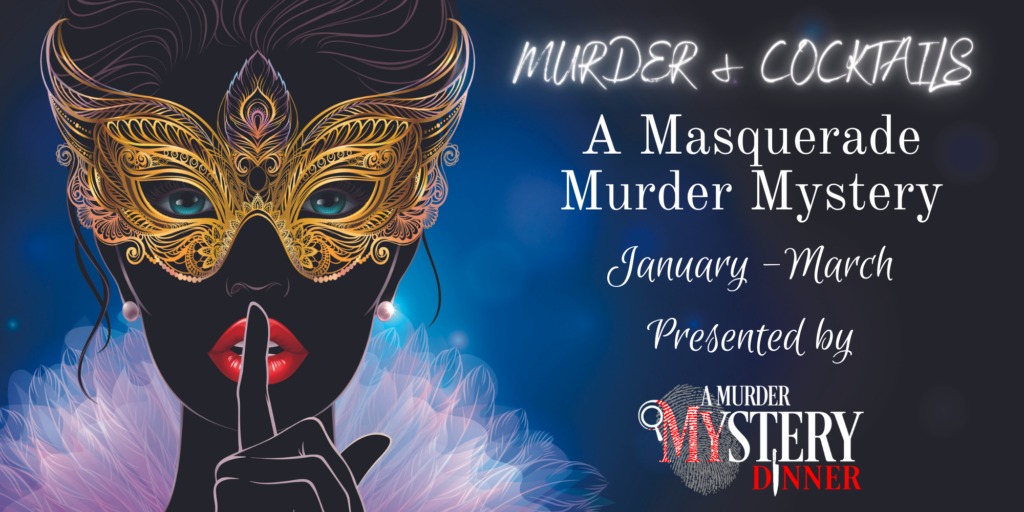 When:
January 22, 2022 @ 7:00 pm – 9:00 pm
2022-01-22T19:00:00-05:00
2022-01-22T21:00:00-05:00
Where:
The Jury Room
22 E Mound St
Columbus
OH 43215

Murder & Cocktails
Join us for a murder mystery and a night of libations, good fun, and a Masquerade Ball you will never forget.  We will gather at The Jury Room a local speakeasy where the most devious of characters go to spread the juiciest of the town's gossip. This night will be filled with mystery, deceit, and murder.  Who will the killer be?  That is up to you to figure out, or at least who to pin it on before the police arrive.
Ages 18 and up only.
---
Ticket Options
General Admission – $44 / Person
---
Is this a Murder Mystery Dinner?
No, this is a cocktails-only event.   With it only being a 2-hour event there is no meal planned as the mystery will take the entire time.  We encourage you to grab a meal prior to the event at the nearby Dempsy's Food & Spirits.  Grab a bite to eat then walk on over to our event at Dempsy's Jury Room.
---
A Murder Mystery Dinner Columbus, Ohio?
Welcome to the best mystery dinner event in Columbus, Ohio.  A Murder Mystery Dinner is like dinner theater meets escape room. We throw out the actors and in their place we put you. You are the game pieces in this real-life game of Clue.  This entertaining night makes for one of the best Columbus mystery dinner events around.  Join us at  The Jury Room for this mystery and an amazing array of cocktails.  
---
What to expect?
Don't expect mystery dinner theater.  This is a social game where participants attending the mystery dinner will work together to solve a murder. You will work as a team, collecting points by solving clues, bribing your way to success, and correctly solving all crimes and mysteries. Along the way, you may also experience some hidden mystery games. Bring your friends, your family, heck, bring your worst enemy, and become friends again by the end of the night.  We are sure you will have the most fun you have had in a while. We hope we will even become a traditional event for you to attend.
Check out our how the game works video HERE.