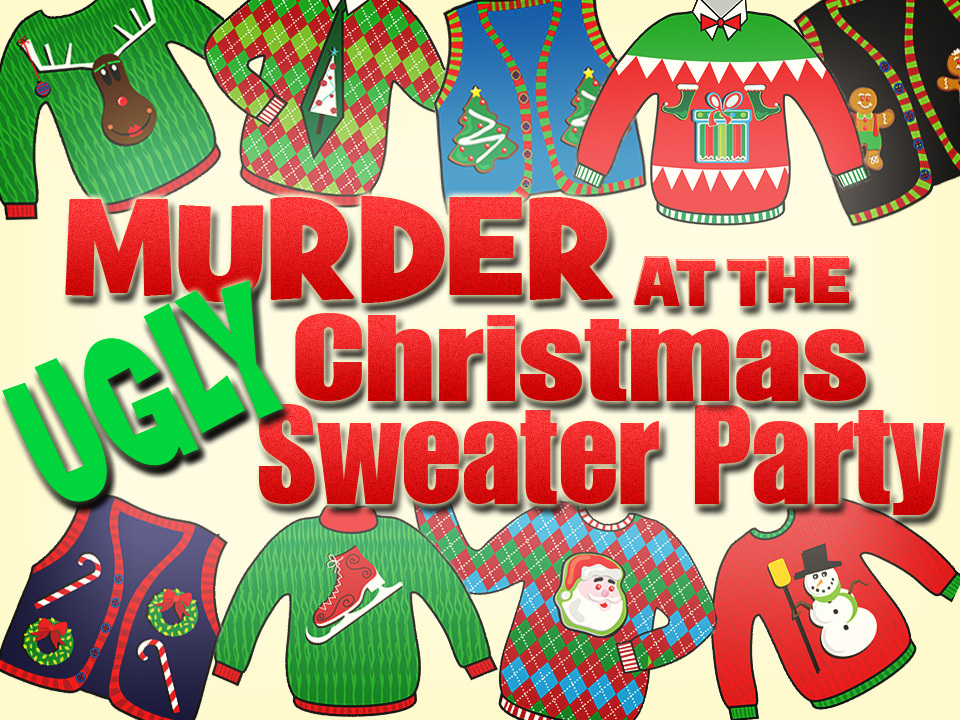 Murder at the Ugly Christmas Sweater Party
December 20th, 2019 7PM-10PM
Sold Out
Join us for a dinner party you will not forget. This December we are hosting Murder at the Ugly Christmas Sweater Party. Join us for a night of fun, food, and a Christmas mystery!

The event will take place in the upstairs at Schmidt's Sausage Haus und Restaurant. Located at 240 E Kossuth St, Columbus, OH 43206 in the historic German

Have some extra fun and wear your ugly Christmas sweater.
Hint…..There may be something extra for you if you do!
View the Mystery Dinner Survival Guide
Book Murder at the Ugly Christmas Sweater Party
Game Synopsis

The Snowflake Lodge is hosting an ugly Christmas sweater party again this year. The townspeople of Snow Falls are excited about the holiday celebration, as the lodge is where the who's who of society will flock to show off their not-so-fashionable holiday attire.
Unfortunately, sparks have flown between some of the guests lately with rumors of blackmail, greed, and revenge. However, everyone has high hopes that the holiday spirit will be enough to quench the scandals – at least long enough for everybody to have a good time at the party.
You've received your ticket to the party. Now it's time to hunt for the tackiest holiday sweater you can find.
This is where your story begins.


Each game has a secret hidden game with in. If you can find the uninvited guest at the party your team will score exprat points towards some fantasic prizes.
When
December 20, 2019 – 7PM – 10PM
Where
Schmidt's Restaurant
and Banquet Haus
240 E Kossuth St,
Columbus, OH 43206
Ages
Recommended ages 14 and up
This isn't just an average Murder Msytery Dinner. This is an interactive mystery game and show all in one. Choose how you will play the game. Each player is randomly assigned to a team, given bribe money, and a survival guide the night of the event. Some players will be characters, pne will be the victime, and one will be themurderer. The game takes place over 3 rounds. Teams will earn points based upon many factors. The team wil the most points wins the game, and the prizes.
Entrees
Schmidt's own fresh Pork Bratwurst
Famous Smoked Bahama Mama
Baked Chicken
Vegetarian option available
Dessert
Schmidt's famous Mini Cream Puffs
Drinks
Soda
Coffee
Tea
Iced Tea
Cash Bar
Contact us
If you need more information on our murder mystery dinner events reach out. We would love to help solve any mystery you may have. On of our detectives will be happy to reach out to.
Address:
240 E Kossuth St, Columbus, OH 43206
Info@amurdermysterydinner.com